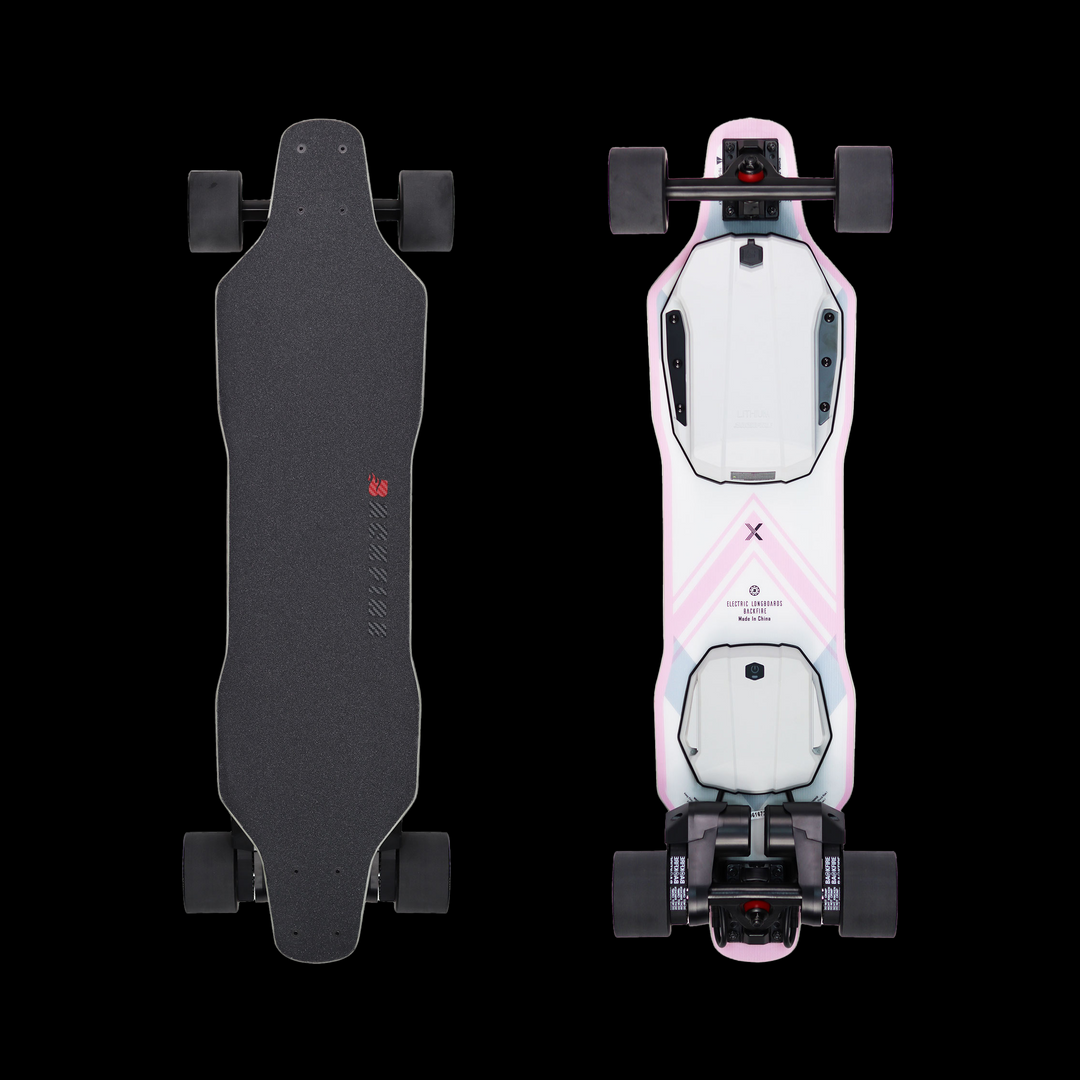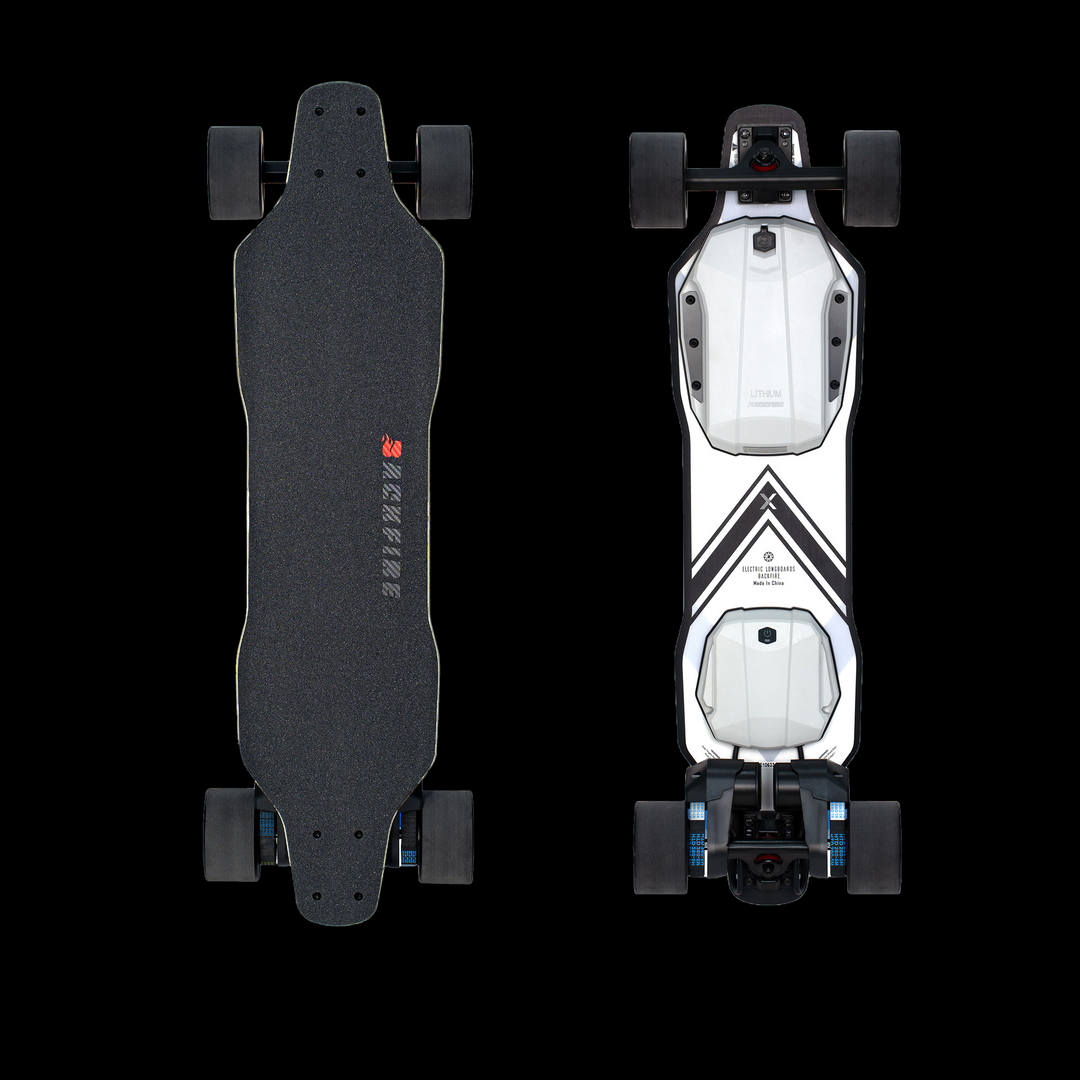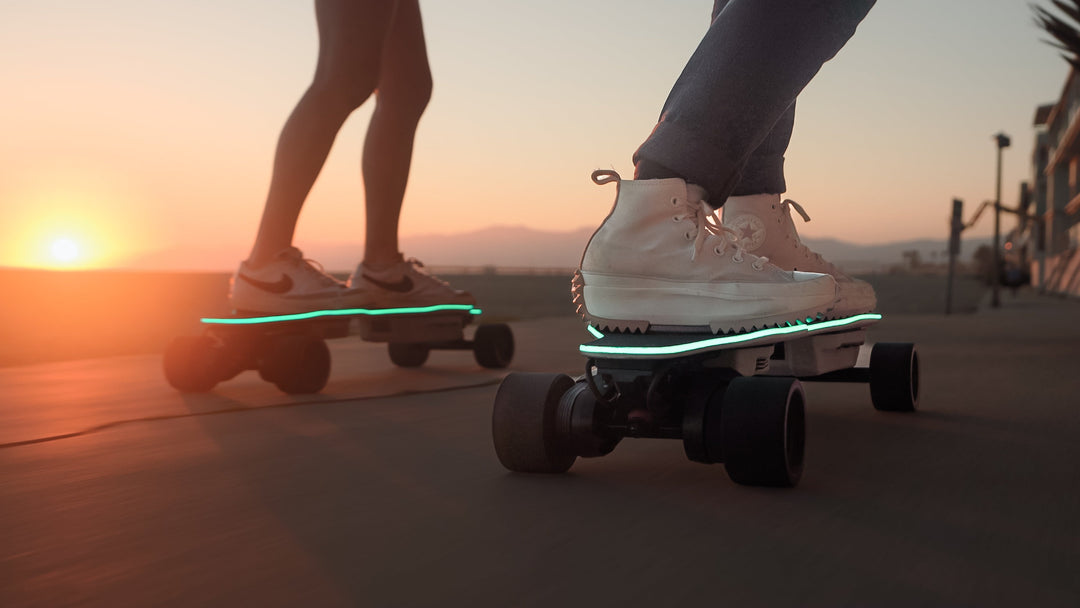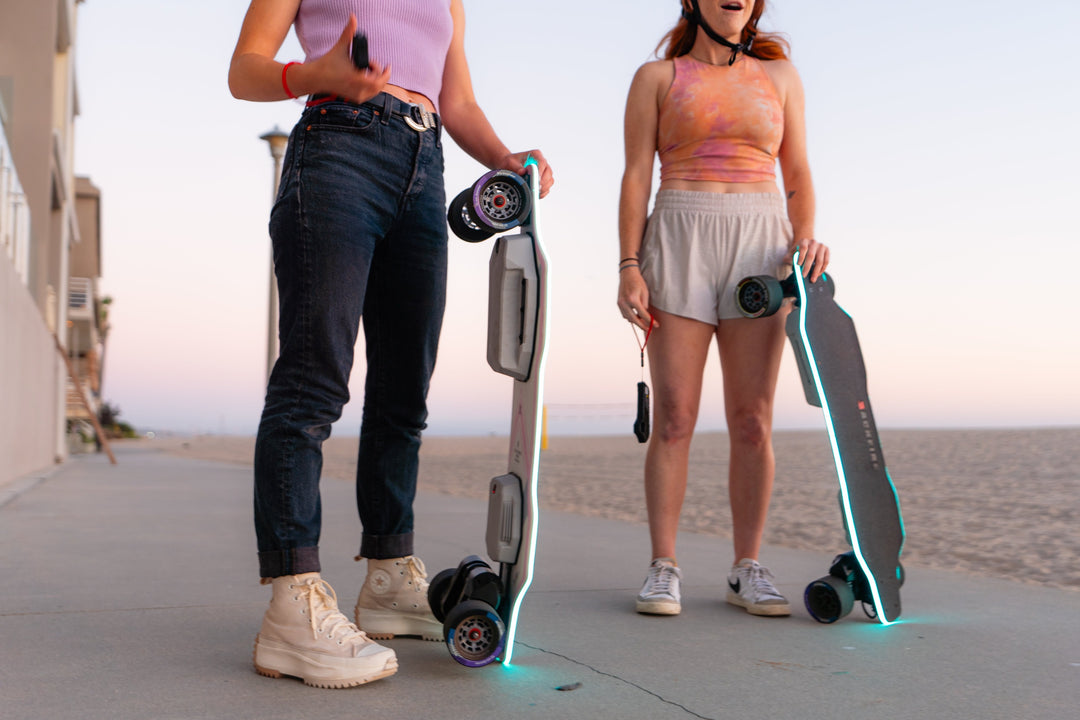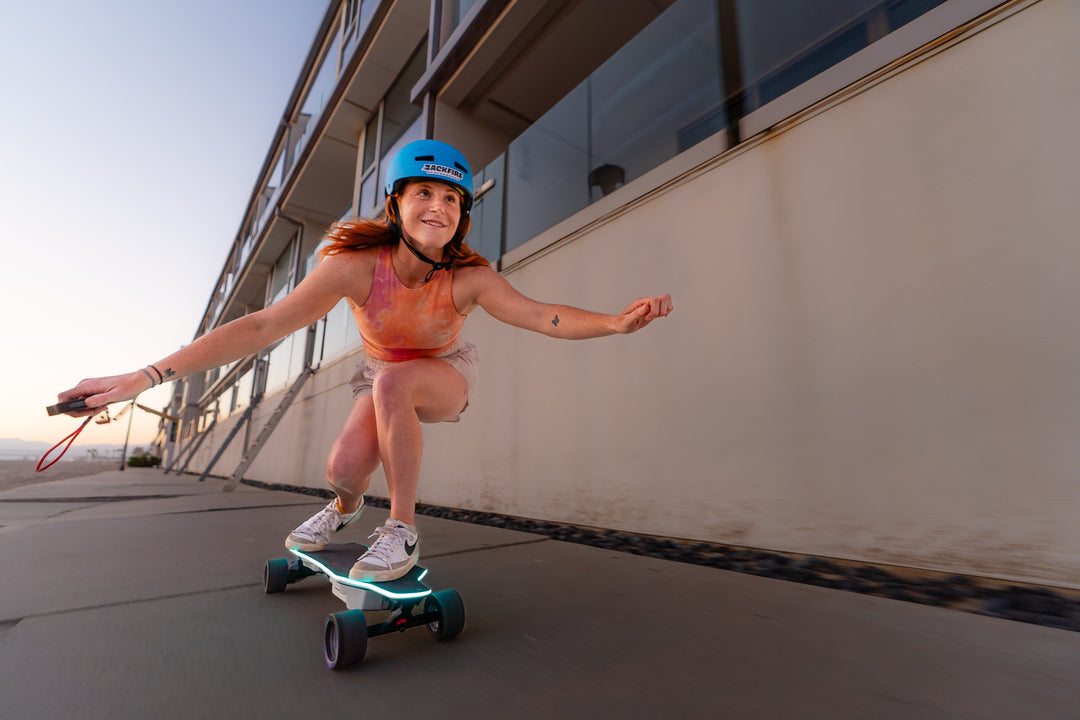 Backfire Zealot V Electric Skateboard
Regular price
$649.00 USD
Sale price
$599.00 USD
Save $50.00 USD
/
---
Deck: ABS+Glass fiber+maple Composite deck 33inch*8.5inch
Truck: 7-inch 50-degree reverse kingpin
Wheels: 96mm*55mm 80A
Battery: 42V 6Ah, 216Wh 10S2P Samsung 30Q 18650 Cells
ESC: BACKFIRE 10S FOC
Motors: 750W*2 Dual belt motors
Remote: 2.4GHz Oled R5 Remote
Weight: 7.6Kg /16.8lbs
Max Load: 110kg/245lbs
Top speed: 26mph/42kph
Range: 11-12.5 miles/18-20km (80KG rider 30km/h flat road/ 180lbs rider 18.5mph flat road )
Hill Climbing: 30%
Water resistant: IP65
Charging time: 2.5hours
Zealot Mini is also known as Zealot V. Company changed name from Zealot mini to Zealot V.
Shipping Policy:
Backfire offers the industry standard logistics solutions to our customers, considering our vertical supply chain system from China to USA and other counties. 
Domestic Shipping in USA:
Backfire Skateboards USA ships from California warehouse and Virginia Tech Center to all states of United States (excludes some minor islands) using major carriers' services including: USPS, UPS and FedEx ground. The transit time is depending on the origin to the destination distance and carriers' advertised transit time, which is in general within 2 to 5 business days. Disclaimer: carriers might inform you for a delay on the tracking page which is beyond our control in certain situations beyond control. 
This map 
illustrates service schedules in business days as of Dec., 2022 for UPS Ground shipments.

Certain products can not be shipped to PO box, APO, FPO address due to the product size and lithium battery inside. A valid street number and name is required for shipping address. A valid phone number is also required for shipping purpose only in case carrier needs to contact you and protected by our privacy policy. 
FAQ IN SHIPPING:
1. How long do I get a tracking number after my order?
You will receive the tracking number in
  - 1 to 2 business days if we ship within domestic USA
  - 3 business days after order if you select air shipping from China
  - Around 30 to 35 business days if you select sea shipping from China, which is the transit time for a container from China to arrive to the local warehouse
2. Why my tracking number does not move, only show label created or why my tracking shows an estimated delivery date today no movement at all?
If your package is from China via air or sea shipping, it has to pass the customs first before the carrier could scan and move it.  Once it pass the customs, the tracking number will update on carriers' website with a final delivery date. The estimated delivery date is NOT accurate if the package did not show "in transit" to you, which means it has not passed customs or has not picked up by the carrier.  Most people will see the tracking number remain the status of " label created" for 4 to 7 business days.  Do not need to call UPS or FedEx asking the package, because they will simply ask you to contact Backfire again. Please kindly wait for the package status update once it pass the customs, or feel free to reach out to our support. 
3. Does the package require signature? What if I can not be home to sign for it?
Given the high value of the product, we do require signature for most of our deliveries. So you or someone has to be present in delivery to sign for the package. 
If you are not home for the delivery date, the carrier will not leave the package at the front door. The carrier will try to make the 2nd delivery next business day. You can also call the carrier to request them hold the package at the local store or partner's location, so you can pick it up from them at your continent time.  
4. What can I do if the tracking number says the package was delivered, but I did not receive it?
Few things you have to do first to solve it in a timely manner:
- Check if any family members or receiving office in your apartment received the package for you.
- Call the carrier as soon as possible to file a claim and provide the claim reference number to Backfire. If you do not know how to file a claim with carrier, please inform us as soon as possible, so we can contact the carrier from our end. 
We reply ONLY on the carriers' tracking status and investigation result to make the final conclusion. If carriers approved lost package claim, we will send a replacement package. We will NOT approve any lost package claim if: theft from your property after delivery; wrong shipping address in the original order; carrier's final investigation confirmation of the delivery to the correct address.
Warning: fraudulent claims will make you liable for any prosecution for mail fraud under federal crime code. 
International Air Shipping from China:
In the case that USA (or other local) warehouses are out of stock (as showing on the product page or via other notices), we will process the order and ship the package directly from China factory to you with an email notice of tracking number. The transit time could vary from 7 to 20 business days via Air shipping. 
The whole process of Air shipping from China could take :
7 to 15 business days to United States
15 to 20 business days to European countries
15 to 20 business days to Canada
15 to 20 business days to Australia and New Zealand
7 to 10 business days to other Asia countries
There are some extra steps for the international shipping because UPS and FedEx do not accept such big battery products via directly air shipping from China mainland. We have to use special air cargo from Hong Kong.  Details are as below:
We send the packages from our factory to forwarder's warehouse in Shenzhen
Our forwarder print and put the UPS/FedEx label on the package
Meantime, forwarder feedback the tracking number to Backfire, our team update in the order and notify customer.
Forwarder moves these packages to Hong Kong airport and books the air cargo airplane from Hong Kong to Germany , USA or other destination counties.
Packages have to go through the Germany or Belgium customs in EU, or customs in California of USA (customs clearance is out of our control, which could take as smooth as 2 business days or as long as a couple of weeks depending on the situation)
Packages pass customs clearance and will be sent to UPS or FedEx or local carriers. (Customers will see the tracking number update on the carrier

'

s website at this point)
Normally, UPS/FedEx make the final delivery via ground shipping within 2 to 5 days in USA, or similar transit time in destination countries.
International Sea Shipping from China:
Sea shipping takes about 35 to 40 days in total, while during the pandemic, the sea shipping time could be between 40 and 60 days.  It is generally with the lowest price, but slowest transit time since we have to accumulate the orders in volume and put hundreds of packages together on a boat to USA or Europe.  Once our USA or Germany warehouse receive the container, we will send them out via ground shipping.  
You normally will receive a tracking number showing from local warehouse 5 or 7 days before you receive your package. Please kindly wait for your tracking update when the carrier pick up the package.