For New Releasing Sale: 
$200 Off Code: HAMMER200
---
ы
The Smallest Details Make A World of Difference

The new 2020 Gen-2 G2 Black's deck is widened and lengthened, providing a more comfortable riding experience



Hobbywing LCD Remote Controller

Speed, Range, Battery, all the states you need at a glance


Air-Tight ABS Plastic Sealed Lithium Battery 11mi range

The battery is fully sealed by ABS plastic which is water-resistance and dust-resistant. It has a high voltage and high discharge allowing up to 11-12.5mi on a single charge.



Sealed Water-Resistant Electronic Speed Controller

The ESC housing now features enhanced water resistance. The Hobbywing 10S ESC has reliable controls with smooth acceleration and braking.



18650 Lithium-Ion Battery
18km/11mi of Range

The 10S2P li-ion battery pack is made of high-quality cells with 41V high voltage and high discharge power. Efficiently using the battery consumption with up to 18km/11mi of range on a single charge.


Hobbywing 10S Electronic Speed Controller with Precise Control and Smooth Acceleration

The high-quality reliable 10S ESC made by Hobbywing provides smooth acceleration and braking. The ESC casing provides some water resistance and dust resistance.

400W*2 Powerful Hobbywing Motors
Experience The Thrill of Riding
Features the brand new Gen 3 Hobbywing motors now with 10% more torque, 20 less noise, and 5% more energy efficient when compared to previous motors on the previous G2 Black.



96mm Large Urethane Wheels

Experience a smooth ride with the 96mm wheels, they provide a quality riding experience being maneuverable and comfortable. Combined with the flexy deck these make your commute extremely comfortable.



New LCD Remote
All the Information You Need at a Glance

The latest Hobbywing LCD remote allows you to check the speed, range, battery, etc at a glance while riding.
Eco Mode: Suitable for beginners, gentle acceleration and braking with a top speed of 12.5mph, also provides the best range.

Sport Mode: Ideal for high-speed riding, with powerful smooth acceleration and braking featuring a top speed of 24mph.
Reverse Gear: Press the function key (key closest to the screen) twice in succession, then select forward/backward. 
Specs
Range: 

11-12.5miles / 18-20km (80kg rider on E and S mode average 30km/h speed on flat road)

Speed:

 24mph / 38kph

Battery:

 18650 42

V

180Wh

Motors:

 

400W X2 Super High Power Hobbywing Motors
Deck:

 Maple

Wheels:

 

96mm Replaceable
Trucks:

 7 inch MD Front truck, New Back Rear Truck.

Charging Time: 3.5 Hours
ы

Shine Your Way
Super Bright LED Ambient Lights

50.4V High Efficiency 21700 Battery
The G3 uses 24 pcs of 21700 battery cells, which is more efficient and more powerful with larger capacity and longer range.

12S Brand New High Efficiency Electronic System
The G3 has a battery system that is more efficient than most skateboards on the market; the battery has a high voltage of 50.4 V, low current, stable discharge, and no voltage drop.

Front & Back CaliberII Trucks
With the front and back Caliber II trucks, G3 gives you extraordinary carving experience and improved stability in high speed riding.

New USB Charging Interface
The G3 has a USB charging port that lets you charge your phone or remote anywhere, easily and quickly.
R3
Wireless Remote with OLED Display
Backfire exclusive R3 wireless remote, OLED display, live status, change settings.
The R3 wireless remote control has a Turbo key that is pressed to gain 20% extra power during acceleration.
Fixed speed road cruise
Eco mode, Sport Mode,

Turbo Mode
Board status display: mode, speed, range, battery, connection, odometer
Speed and range unit setting: miles or kilometers
The remote has three wheel diameter setting: 85m, 96mm(G3 ,G3 plus &Zealot) or 165mm(Ranger X2), and 105mm setting now with Cloud wheels.
Backfire Exclusive
Specs
Range:

 

24-30km / 15-18.5miles (80kg rider on E and S mode average 30km/h speed on flat road)
Speed:

 

46KM/h / 28.5MPH (Acceleration as fast as a belt-driven system)
Battery:

 

50.4V 260Wh (Equivalent to 42V 7.2Ah-7.5Ah)
Motors:

 

450W X2 Ultra-High Power Ultra-High Torque Hub Motors
Deck:

 

Flexible Bamboo with Maple
Wheels:

 

96mm Replaceable
Trucks:

 

Front & Back Caliber II
Lights:

 

LED Ambient Light
System:

 

12S High Voltage and High-Efficiency Electronic System with 21700 Battery Cells Output Current=60A
ы
High-Performance Electric Skateboards!

Zealot S
50.4V HIGH EFFICIENCY 21700 BATTERY
The Structure of the Zealot S battery still uses 12S2P, the same as in the G3 and G3 Plus. This kind of battery is 50.4 volts, the higher the voltage the higher the efficiency!
This board also uses 21700 4000mah battery cells, with a single battery cell discharge capacity of 30A. Because it is 2P, the extra battery cluster has a discharge capacity of 60A, which can keep the board riding at high speeds or during long hill climbing endurance.

875*2 Belt Drive Motors 
The Zealot S also utilizes a higher-powered motor than the Zealot. Upgraded from the original 750W to 875W, increasing the torque by 16%!
You can clearly see the larger motor size of the S below.
ABS Glass Fiber Composite Deck

The deck is also upgraded from a bamboo glass fiber composite board to an ABS glass fiber composite board, which will never break, despite its amazing flexibility.


Zealot
311Wh Super Large Battery
The Zealot is equipped with a 311wh super large battery that can give you 28-36km / 17.5-22miles in range.
Bamboo and Fiber Glass Deck
The deck is made of bamboo and fiberglass composite material, which provides you with excellent flexibility while ensuring absolute sturdiness, thus greatly reducing vibrations.
It has a deep concave design, to hold your feet in place, this translates to a very precise turning ability during your ride, which is also a special feature of Backfire, a vintage electric skateboard brand.
Front Caliber II Truck & 96mm Wheels
The front truck is still the world's leading brand for longboard trucks, Caliber, and the rear truck, developed by Backfire itself, both of which are pitched at an optimum 50 degrees.
The 96mm diameter is the best diameter for the wheels of an electric skateboard. It is neither too small to drive in poor road conditions nor too large to cause to high center of gravity, which is the best all-round choice for handling and comfort. This great combination of wheels with a highly flexible board, make your long-distance riding very comfortable.
105mm Wheels Jointly Developed By Backfire & Cloudwheels
This 105mm wheels jointly developed by Backfire and Cloud wheels Available Now.


Electronic Components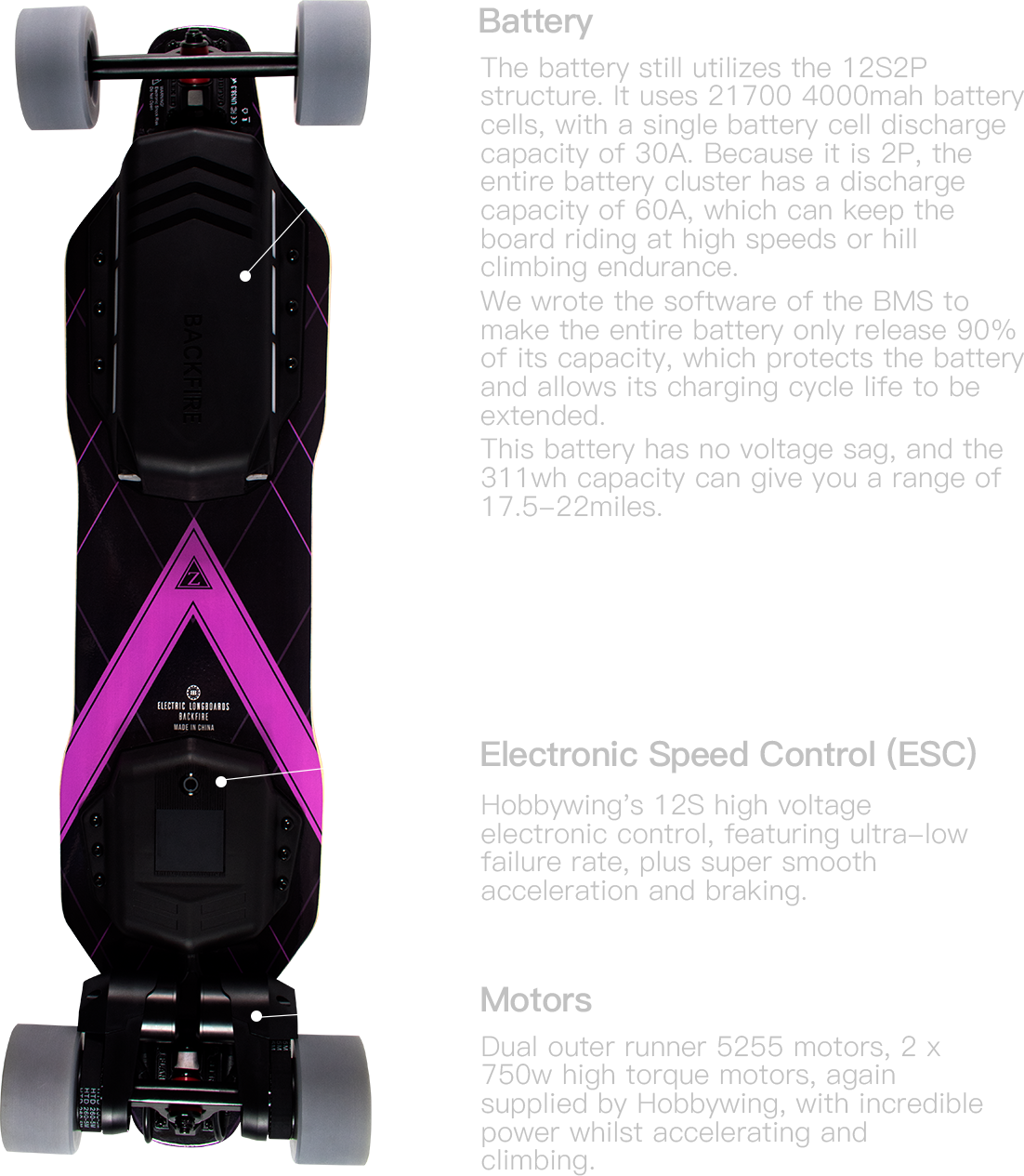 R3 Wireless Remote with OLED Display
Backfire exclusive R3 wireless remote, OLED display, live status, change settings.
E Mode: Suitable for beginners. Acceleration and braking are smooth. The highest speed is only 20km/h.
S Mode: Suitable for a daily commute. Acceleration and braking are much stronger. The highest speed is 38km/h
Turbo Mode: We generally do not recommend you using this mode. When the Turbo mode is turned on, if you push the throttle fully, the whole person feels like being ejected. It is suitable for you to overtake on the road and compete with your friends. The maximum speed can reach 46km/h or 28.5MPH, but this mode consumes a lot of power. If you ride in this mode, you can only get 60% range. Of course, this Turbo mode does not have a 30 seconds speed limit.
Fixed Speed Cruise Mode: When the scroll wheel is pushed, click the power switch on the remote control, when the circle on the screen becomes a square, release the power switch to enter the fixed speed cruise mode (Fixed speed cruise mode can't be turned on in Turbo mode.)
Turning On/Off the LED Ambient Lights: You can choose to turn off the ambient lights in Turbo mode for all new Backfire boards. Double click the power button on the remote to turn on the breathing mode, then flash mode while switching to Turbo mode. Double click the power button on remote again to turn off the ambient lights. Then there will be no ambient lights in S and T mode.


BACKFIRE APP
SPECS
Range:

 

28-36km / 17.5-22miles (80kg rider S mode 30km/h speed flat road)
Top Speed:

 

46KPH / 28.5MPH For Zealot;  48KPH/30 MPH For Zealot S
Battery:

 

50.4V 311Wh for Zealot; 50.4v 346Wh for Zealot S
Motors:

 

2 x 750w Motors for Zealot; 2x 850w Motors For Zealot S
Deck:

 

Flexible Bamboo for Zealot; Composite Deck for Zealot S 
Wheels:

 

96mm Replaceable
Trucks:

 

Front Caliber II for Zealot;  8 Inch Trucks for Zealot S
Lights:

 

LED Ambient Light: White for Zealot; Purple for Zealot S  
System:

 

12S High Voltage and High-Efficiency Electronic System with 21700 Battery Cells
ы